Event Recap: Fall 2022 WIOA Partners' Meeting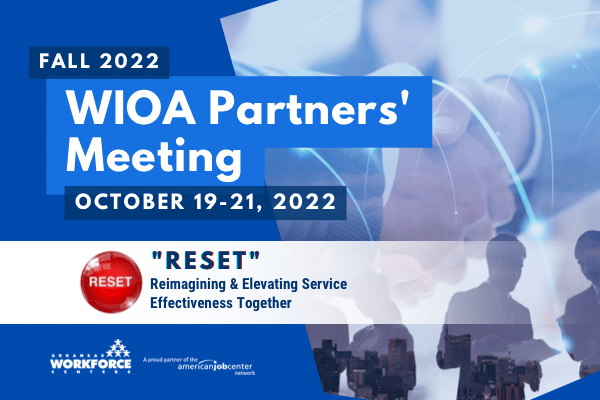 Arkansas' partners under the Workforce Innovation and Opportunity Act (WIOA) came together for the Fall 2022 WIOA Partners' Meeting at the Four Points hotel in Little Rock October 19-21, 2022. More than 300 workforce professionals from across the state attended the three-day conference, including employees from ADWS, Adult Education, ARS, and DSB; state and local workforce board members; Chief Elected Officials; employer representatives; training providers; and guest presenters. It was the first in-person partners' meeting since 2019, and it was clear that attendees enjoyed the opportunity to network and share information face-to-face again.
"RESET: Reimagining and Elevating Service Effectiveness Together" was the theme of the meeting. The agenda featured numerous speakers and training topics relevant to strengthening Arkansas' workforce development system, such as Hiring, Recruiting, and Retention Strategies; Diversity, Equity, and Inclusion; and Serving Youth in Rural Communities. Some guest presenters included Dr. Mardy Leathers, Director of the Missouri Office of Workforce Development; Deniece Thomas, Commissioner of the Tennessee Department of Labor & Workforce Development; Mireya Reith, Founding Executive Director of Arkansas United; and Abtin Mehdizadegan, Esq., Director of Cross, Gunter, Witherspoon & Galchus, P.C.
On day three, employer representatives participated in an Employer Workforce Challenges and Innovations Panel moderated by Ms. LaJuana R. Delph, Workforce Development Coordinator, Adult Education, ADWS. Panel participants included Ms. Adija Banks, Director of Human Resources, Albemarle; Ms. Lily Thompson, Warehouse Associate Recruiter, Amazon Inc.; Ms. Kathleen Walker, Employment Services Manager, City of Little Rock; and Mr. Scott Loveday, Sr., Director of Talent Management, UAMS.
The meeting was recorded and will be available online at DWS.Arkansas.gov soon.
If you have questions about the Fall 2022 WIOA Partners' Meeting, please email WIOA.Partners@arkansas.gov.