Layoff or Closure Help Is Available!
Arkansas' Rapid Response Team within the Dislocated Worker Services Unit assists workers who lose their jobs due to business closures or workforce reductions due to the economic climate or natural disasters. The Rapid Response Team helps employees during business closures or workforce reductions by providing information about retraining, job opportunities, filing for unemployment insurance benefits, and other local, state, and federal services.
The Dislocated Worker Services Unit engages the resources of the Arkansas Division of Workforce Services, area health services, the U.S. Department of Labor, the Arkansas Economic Development Commission (AEDC), the Workforce Innovation and Opportunity Act (WIOA), and other agencies, as appropriate, to meet the needs of dislocated workers and employers.
Worker Adjustment and Retraining Notification Act (WARN)
The Worker Adjustment and Retraining Notification Act (WARN) protects workers, their families, and communities by requiring most employers with 50 or more employees to provide notification sixty (60) calendar days in advance of plant closings and mass workforce reductions. This does not include employees who have worked less than six months in the last 12 months and those who work an average of fewer than 20 hours a week.
Employees entitled to notice under WARN include managers and supervisors, as well as hourly and salaried workers. Advance notice gives workers and their families some transition time to adjust to the prospective loss of employment, to seek and obtain other jobs, and, if necessary, to enter skill training or retraining that will allow these workers to compete successfully in the job market.
Regular federal, state, and local government entities that provide public services are not covered by WARN.
WARN requires that notices should be addressed to the Director of the Arkansas Division of Workforce Services. More information and instructions on how to file WARN with the Arkansas Division of Workforce Services.
If you have information about a company needing assistance or contemplating business closure or workforce reductions, please contact:
Regina Moss
Program Operations Manager
Dislocated Worker Services Unit
Email: Regina.Moss@arkansas.gov
TEL: 501-683-1412
FAX: 501-682-4263
Immediately upon receiving notice of closure or workforce reduction, Rapid Response contacts company officials. Whenever possible, a community meeting is scheduled with elected officials and business leaders to create action plans to assist both the community and dislocated workers.

The Rapid Response Team may conduct a Worker Assistance Workshop for representatives of local and state agencies to share information about available resources with affected workers. Services and needs discussed at the workshop may include retraining and educational opportunities, unemployment insurance, social service programs, credit counseling, insurance options, and resources to find a new job.
Trade Adjustment Assistance (TAA)
If applicable, Rapid Response will provide information on Trade Adjustment Assistance and associated benefits. TAA is a benefit for those workers who lose their jobs or whose hours of work and wages are reduced as a result of the impact of international trade. This program includes a variety of benefits and reemployment services to help unemployed workers prepare for and obtain suitable employment. Workers may receive assistance in skill assessment, job search workshops, job development/referral, and job placement. In addition, workers may be eligible for training, job search allowance, a relocation allowance, and other reemployment services.  For additional information, click here.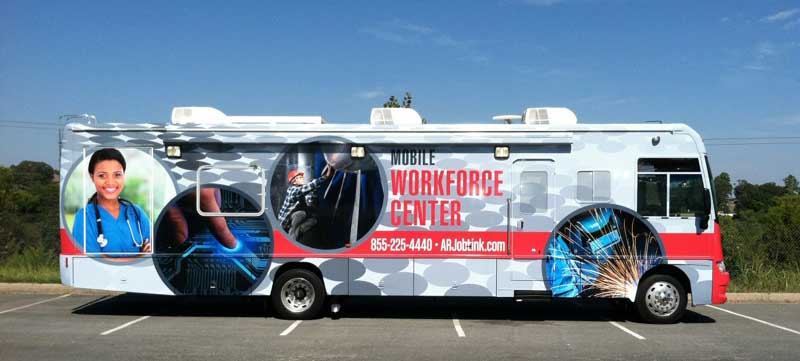 Mobile Workforce Centers
The Rapid Response Team operates five Mobile Workforce Centers. Each Mobile Workforce Center has full internet connectivity and is equipped with computers, printers, copiers, and fax machines. All of the Mobile Workforce Centers include a computer with access to Jobs Application With Speech (JAWS) software, and most mobile units are handicapped accessible.
Mobile Workforce Centers may be transported to supplement local resources, as needed. Workers may be provided assistance in drafting résumés and letters of application, effective interviewing skills, productive job search techniques, and Arkansas Career Readiness Certificate (CRC) assessments.
The units can be requested by completing and submitting the online form by clicking here.
Offline form submission is available: Mobile Workforce Centers Application Form.